Co-Browsing. It's not a term you hear very often. In this post we'll investigate just what co-browsing means, and some of the benefits that your company can potentially derive from the technology – both in terms of sales and customer support.
According to Wikipedia, Co-browsing is defined as "…the joint navigation through the Internet by two or more people accessing the same web pages at the same time." Co-browsing differs significantly from some other technologies, such as screen sharing, because it doesn't require that control of the screen alternate between the users. With co-browsing, all users can share equally in the web browsing experience, at the same time.
So what are some of the real-life, practical uses for this technology that can really help you and grow your business?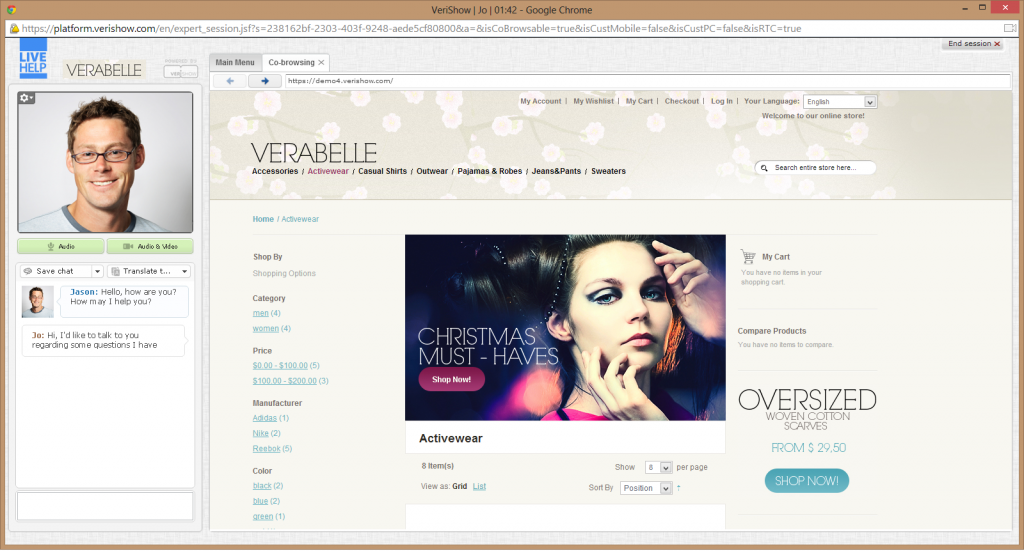 An example of an agent who is co-browsing with a customer on an e-commerce site using VeriShow
Sales
Making sales on-line is difficult at best. Shopping cart abandonment is rampant. Large number of page views and high click-through rates do not equal revenue. Co-browsing technology can help you mitigate those difficulties. In an environment where your salespeople are able to walk your prospective customers through your product's features, explain their benefits and tailor their answers to the prospects specific questions, those prospects are much more likely to complete the purchase. Moreover, being able to assist the customer to (and even during) checkout, can address any concerns and questions and raise conversion!
Another example that is becoming one of the biggest areas of growth in on-line shopping, especially in higher-end sites, is the "personal shopper". This involves having trained salespeople work with the customer from the outset, in order to provide a unique shopping experience. Through co-browsing technology, salespeople can work live, and in tandem with the prospect to figure out their needs and make sure that the products they are purchasing fit their lifestyle and desires.
In addition, co-browsing gives your salespeople the opportunity to both cross-sell and up-sell to your customers. For example, suppose your prospect is interested in purchasing jeans; while you're salesperson is finding out specific things like size, color and cut, they can also suggest, and more importantly, show the customer any matching shoes, tops, purses, and accessories that will go along with the original jeans. The ability to do this greatly improves the likelihood that your customer will purchase more than they originally intended.
Customer Support
Customer support can be an incredibly exhausting experience for your customers. Without the ability for both parties to be able to see exactly the same thing at the exactly the same time, support calls can go on and on – not only frustrating and angering your customers, but increasing your costs as well.
By enabling both your support person and your customer to browse through your web pages simultaneously, you greatly enhance your customer's experience with your support staff, and you reduce the time it takes to solve their problems. It's a win-win solution.
Co-browsing is the ultimate live help / "Mayday service" a web site can offer its customers. It can be used in conjunction with audio/video and/or phone communication.
For co-browsing to be effective, it needs to work really well. The VeriShow co-browser is based on unique technology developed by VeriShow that provides a great user experience. Co-browsing with video is the ultimate way to engage customers in person – human engagement is becoming the new way to better service online customers.
If co-browsing technology sounds like something you would like to explore further to help grow your business and reduce your overhead costs, please feel free to contact us at VeriShow.