Sales Enablement platform for Live Support
VeriShow is the sales enablement platform. It enables sales and service personnel to assist customers faster and in the most efficient way by using personal engagement technologies and processes. It also helps in minimizing cyber anxiety associated with complex transactions that may involve sensitive information.
What is VeriShow?
VeriShow is a real-time personal engagement platform that consists of the following elements:
– Secure patented Co-browser
– Document sharing & form filling capabilities
– VoIP and Video Chats.
The solution is offered as a stand-alone platform or as an integration with other customer service solutions.
VeriShow is browser-based and require no download of any software
Our main products are:
• VeriShow
• VeriTalk
• VeriShare
Car Dealership Sells Cars Online using VeriShow's Video Chat and Content Sharing Features
Benefit from VeriShow?
Increase sales and average order value (AOV) by demonstrating addressing question and guiding customer with visual aids in real time.
Increase rate of first-contact resolution  by addressing issues in real time and in person using sharing documents and / or cobrowsing tools.
Lower operating expenses by replacing internal travel with VeriShare that lets your customer broadcast what they need so you can remotely address that.
Build strong customer relationships by providing personalized assistance and live support to prospect while they're still on your website.
Concentrate on sales and service and not on technological maintenance by using a simple SaaS (software as service) architecture that requires no configuration or maintenance by your technical personnel, and no special downloads or installation by your site visitors.
Who is it for?
For any organization that by sharing visual content can increase sales, conversion rate, customer satisfaction and loyalty. The solution is ideal for companies in the financial services space, companies that offer complex and high end products and services, health care and governments.
VeriShow can be used on the web, mobile devices and on premise kiosks.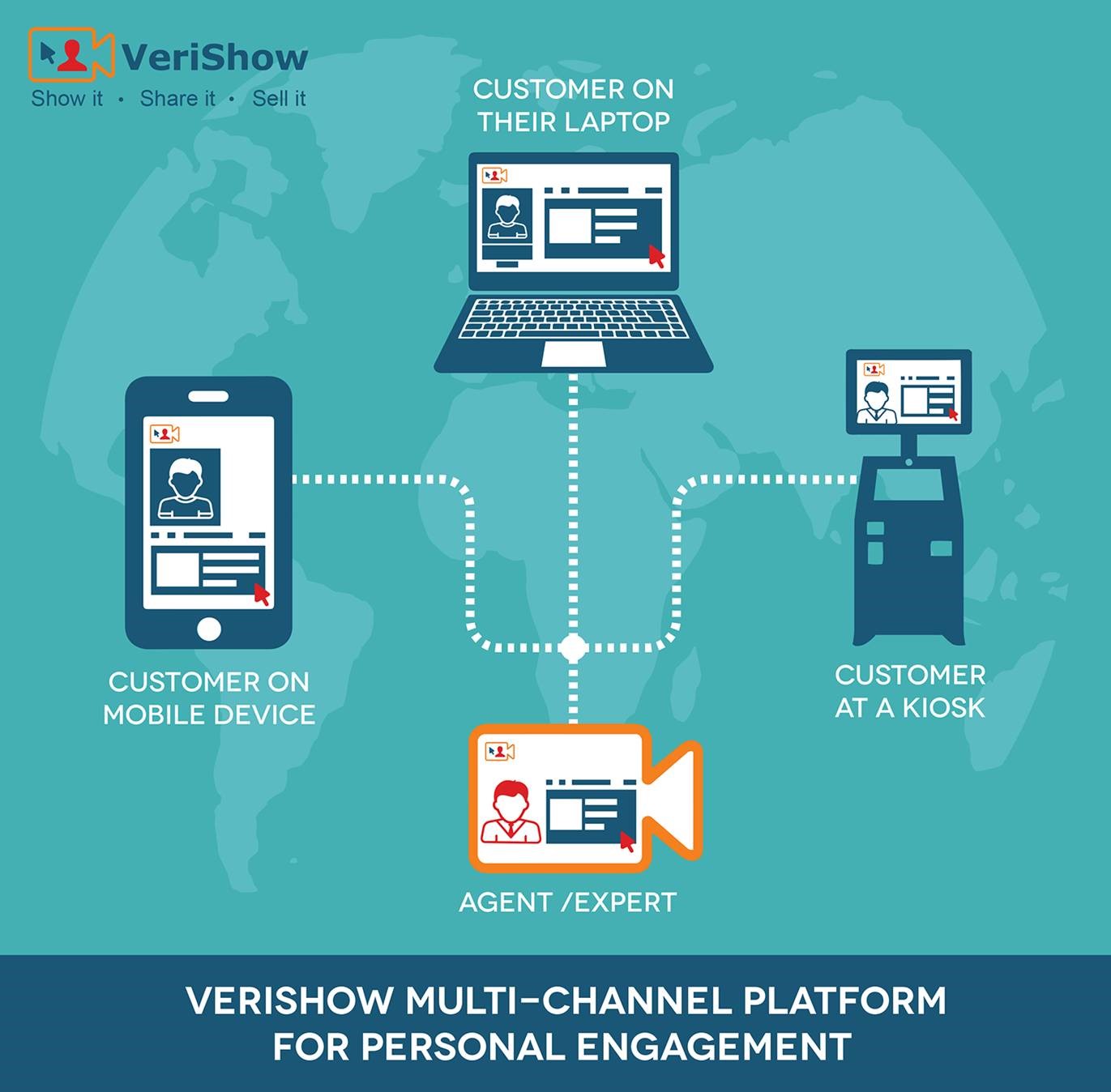 Comprehensive Compatibility
You can accept customer interactions from a variety of devices including:
PC/Mac – any OS and all common browsers
Android and iOS browsers – Chrome, Safari are supported on Mobile and Tablet/iPad devices
Request a Demo
If you would like to learn how VeriShow can help your business and see it in action, request a demo!