Website Co-browsing using a Co-Browser
Co-browsing enables a remotely located representative or agent direct and help a web site visitor (or a customer) find product or information in a live session using web browser to view web pages together in a synchronized manner.
VeriShow's Co-browsing Overview
The VeriShow patented HTML5-based co-browsing application allows website representatives to co-browse the company's website  in real-time with the customer on site. Co-browsing can be used to guide the customer through the site, discuss products, and assist with completing a purchase or filling online forms.
The co-browser helps companies increase sales, increase first call resolution (FCR) by resolving issues instantly, and build long term customer loyalty. The VeriShow co-browsing solution is simple to use and a very powerful engagement tool. As opposed to several other solutions, VeriShow's co-browser uses no proxy server to browse your site, or Java that limits the flexibility and usability of the solution.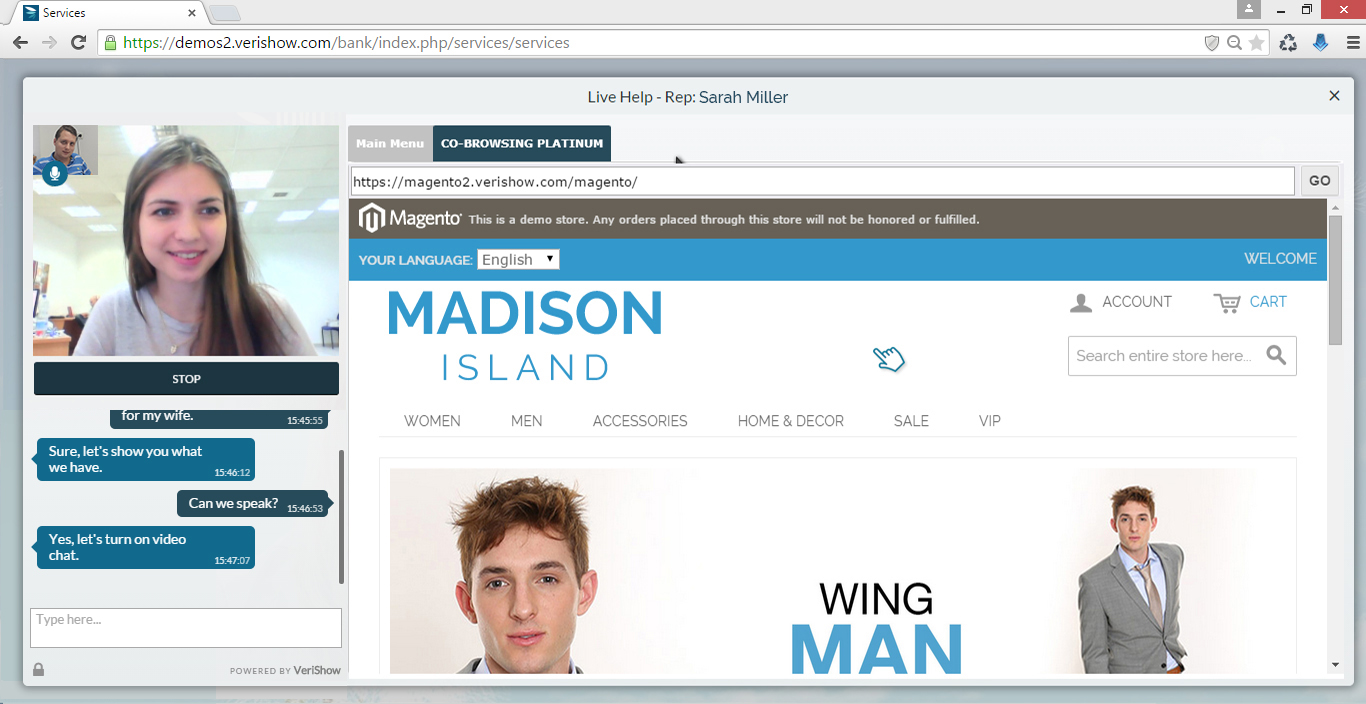 Click here to view benefits of Co-browsing (Infographic)
Visitor view: co-browsing the website with the agent communicating via video chat in real-time. Communication can alternatively be through chat or other communication devices such as phone.
Main co-browser features
VeriShow's patented co-browsing solution allows representatives to co-browse the site with the customer from where they are on the site without having to login again or add items to the cart!
Below are some of the powerful features of the VeriShow Co-browsing solution:
No Java, no installation for instantaneous usage:
Browser-based, instant co-browsing – works on all modern browsers including mobile devices.
No installation is required – does not rely on Java nor does it require software installation.
One click to connect with agent – once the agent launches co-browsing, agent and customer can start browsing.

Real co-browsing (not screen sharing), which continues from existing page!
Continue to co-browse from current session – continue to co-browse with customer from existing page, without losing previously saved data, added cart items, completed registration steps etc.
Co-browse pages that are behind login– no need to log in again if customer is already logged in, and be able to co-browse pages that are behind login.
Compatible with cookies – all cookie-based info is maintained and visible on both sides when co-browsing (e.g. adding items to shopping carts, changing language preference).
Synchronization and agent guidance
Full (optional) agent/customer control – choose view-only mode or agent control within the co-browsing session (limiting certain actions only is also supported).
Cursor and scrolling synchronization – The website's representative and customer mouse cursors are visible and scrolling of pages is synchronized and can be done by both participants in the session.
Form completion – actively assist the customer while he or she is completing a form and even help with completion and type in forms (optional, agent view-only mode available).
Highlighting – assist the user by clicking on particular areas with the cursor highlighting feature.
Security features
Support for co-browsing secure and non-secure pages – website pages that are encrypted (HTTPS) as well as standard HTTP pages can be viewed simultaneously*.
Masking of sensitive fields while co-browsing – in scenarios such as payment pages, it is possible to mask inputted customer info such as credit card details.
Secure – co-browsing takes place within the browser, agent is not able to view or control any other window, tab, program or desktop of the customer.
Flexibility
Works with integrations – solution is compatible with partner integrations.
Optional configurations – the co-browser has various optional configurations to specifically suit business needs.
Compatibility
Flash and Silverlight content – – Shows Flash and Silverlight content to agent/customer
Works on any device** – Windows and Mac computers, Android tablets and smartphones and Apple's iOS iPhone and iPad devices.

The VeriShow co-browsing solution can help increase sales and enhance customer service experience works seamlessly with the other VeriShow capabilities such as video chat, document sharing, video clips and image sharing (certain features depended on device used).
Need further info?
To learn more about VeriShow's co-browsing, please contact us. If you would like to see VeriShow in action, request a demo.
---
* Choosing the Right Co-browsing Technology – write-up on the differences between co-browsing solutions.
* Some integrations are HTTPS only.
* * Mobile compatibility is still being developed but already largely available on Android, and in part on iOS devices.