Interactive Content Sharing
Share and review documents, videos, or images  in real-time with customers, as if they are sitting with you around the very same table.
Content Sharing Overview
VeriShow's web-based solution for Content Sharing allows an agent or a representative and customers to instantly and spontaneously share content with each other in a browser-based live session.
Both agent and customer can mark the content they share while they view and discuss it. Furthermore, several files can be shared simultaneously allowing the agent to toggle from one shared content to another at any given moment. All Content Sharing apps work in conjunction with VeriShow's Video Chat and Co-browser features.
Customer view: agent shares and discusses content with customer in real time
Document Sharing Applications
The Verishow platform is rich in content sharing applications that are tailored to address any common need of online human engagement. The solution is modular and apps can be added or removed to an account according to the business requirement.
Share File (Agent to customer content sharing)

This document sharing software or app allows agents to upload and share content with the customer, annotate and save their work on their respective sides. The apps support variety of file formats including Microsoft Word®, PowerPoint®, PDFs, text files, image files, and video clips. As the customer can save (optional) the shared content, this app in effect also works as a content file transfer method.
Visitor's Document app (customer to agent content sharing)

This document sharing software is similar to the Share File application and allows the customer to share content with the agent. The customer can choose to share Office® documents, PDF, text and image files. For example, a customer can share a picture of his / her damaged product or a scanned image of his or her ID and share that with the agent. When used on mobile, customers can also take a picture with their smartphone and share it with the agent!
Form Completion App

The agent and customer can complete PDF forms together. Each can type and edit and at the end of the process, the agent can bring up a signature box and have the customer sign to approve the completed document. Both sides can then save the completed document for their records. All done instantly, no need to download or install any software.
Screen Sharing App

The Screen Sharing application is designed to be used by agents to show or demonstrate content that is on their screen to their customers, such as an installed software window. The agent can share his or her desktop, a single window or an application. The customer will only be able to see the shared area and so that the agent's privacy is maintained. This app WebRTC-based.
Whiteboard App

The agent can brainstorm with the customer requirements for a deal utilizing VeriShow online collaborative whiteboard. They can add comments, annotations or mark-up relevant areas with a rich set of marking and drawing tools. When done, both sides can save it as a PDF document.
The real-time ability to share and discuss content turns any online interaction to real-time engagement that can allow customers and agents to make real progress effectively, as if they were next to each other.
Mobile capabilities for document sharing
Customers can share content with agents straight from their smartphone or tablet. Our HTML5-based mobile browser solution enables communication from mobile devices so that customers can instantly interact with agents directly from their mobile device with no need to download or install any application. Using the Share File app, agents can share images and documents and customers can do the same when the Visitor's Document app is used. Read more about using mobile devices.
Video Sharing Applications
These apps allow video clip sharing between the agent and customer.
Share Video App

The Share Video App allows the agent to share previously uploaded videos (to the VeriShow account) with the customer. The agent can build an inventory of video clips stored in his or her account and share the relevant video clip as needed during the live session. The video can be paused, discussed, and annotated by the agent and customer. This is particularly useful for sharing product marketing videos, instruction videos etc.
The YouTube® App

The YouTube® app allows the agent and customer search for a video on YouTube, paste a known video clip URL, view it simultaneously, pause, annotate and discuss. This app is particularly useful if a company that already has its video library uploaded to YouTube, which can then be used within the VeriShow session for sales, support, or instructional purposes.
Live Video Stream Sharing Applications
These apps allow the agent and customer to share a live video stream from their camera!
Live Video Feed App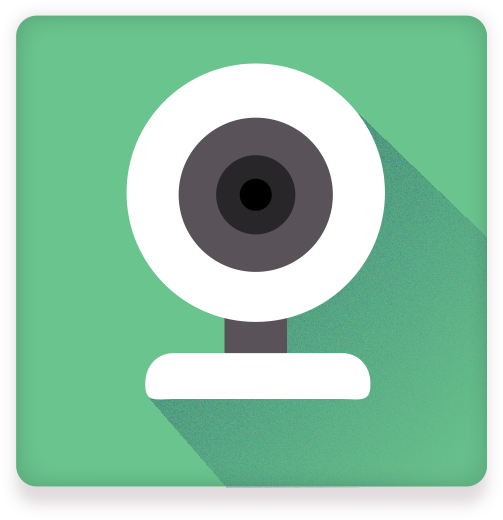 The Live Video Feed app allows the agent to use the collaboration space with their camera to share real-life objects via the video stream to assist with his / her role in the session, for example, to demonstrate how to use a product. The agent can also use the application with a 2nd camera allowing the agent to communicate via video chat but still share an object on video using a separate camera.
Visitor's Camera App

This app enables the customer to turn on his or her camera and share the video feed in the collaboration area. The agent can view the video stream and take snapshots. It is designed to help interior designers, companies that sell beauty products or certain health care providers to better service the customer. Separately, the agent can also let the customer take a "Selfie".
Where Content Sharing Apps Can be Used?
There are several scenarios where content sharing apps can be used, for example:
Financial Services – In a sales or support scenario, a banker can share brochures with customer or ask the customer to share a financial records document or upload an ID document, which could be necessary for a particular financial transaction. The customer can upload the content and share that with the agent so they can instantly discuss any point in real-time.
Retail – An agent wants to share a study or document that provides information about a product or service. The agent may want to help a customer fill in a certain document or view a short tutorial video clip with the customer to ensure that he or she completely understands a specific process. The content sharing tools allow them to do that in real-time.
Health Care  – A nurse can prepare a patient ahead of time for a procedure he or she would be going through a few days later. He or she can upload documents, images and even a video clip to better illustrate the upcoming procedure. Once the interaction is completed, the customer is better prepared for the procedure.
How is Content Sharing Used?
Interaction between the parties can start with a textual chat, video chat or a phone call. The agent launches the relevant application, the customer's window resizes to show the content and the content sharing session starts. For example:
For the agent to share a file, the Share File application needs to be launched.
For the customer to share a file, the agent needs to run the Visitor's Doc app, and ask the customer to upload a file of his or her own.
The larger the file size, the longer it would take for both parties to view the document. It is recommended to share files no larger than 2MB in size
These applications can be used with or without conjunction with VeriShow's Audio / Video capability.
For agents' convenience, VeriShow offers online storage to help speed the sharing process.
Security
Content sharing takes place within the browser, the agent is not able to view or control any other window, tab, program or desktop of the customer.
Flexibility
Works with integrations – solution is compatible with partner integrations, and via our APIs.
Optional configurations – Various combinations of content sharing apps can be set when an account is being configured and various options can be set (e.g. disable annotation).
Compatibility
Works on any device* – Windows and Mac computers, Android tablets and smartphones and Apple's iOS iPhone and iPad devices.
* Mobile compatibility is continuously being developed and being released on an ongoing basis.
Learn More
Ready to share content in real time with your customers? Contact us for more information or request a demo.