VeriShow 4.6 | Release notes
VeriShow 4.6 introduces new, cool-looking live chat buttons, Japanese localization and bug fixing.
Live Chat Buttons Improvements
VeriShow is all about personal interaction. With that in mind, we've made the following improvements:
The VeriShow live help button now includes a picture – It is now possible to select a picture of an agent to add to a button from a ready-made gallery. It is also possible to add a picture of your choice! This could contribute to a more personal-looking customer experience and contribute to a higher click-through rate.
Usability improvements of the button embedding process – We've simplified the button embedding process. It is now also no longer necessary to click a 'Submit' button to save your button selections, the changes you make are automatically saved.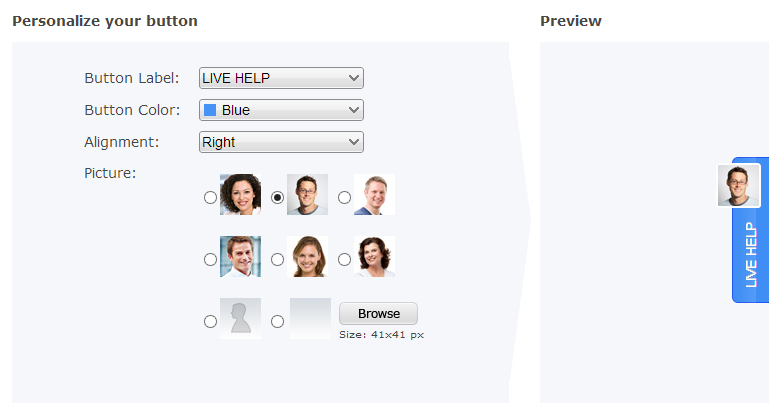 The button embedding page now provides buttons with agent images
Japanese Localization & Localized Live Help Buttons
VeriShow now provides a localized version in Japanese (session-area) in addition to other languages currently supported: Portuguese (Brazil), Danish and Hebrew.
Accounts that are set to one of these languages now also have the ability to select the button in the relevant language.
Co-browsing Improvement
We've made a significant usability improvement to VeriShow's co-browsing app in the VeriShow for LivePerson solution. In this solution the co-browser now opens within the agent console rather than open in a new window. This provides the agent with a consistent user experience without the need to use additional windows unnecessarily.
Bug fixing
We've resolved various technical issues contributing to a more stable platform.
Questions? Demo?
If you have any questions or would like to see any of the above in action, please contact us for a demo.