With the success of 2015 already in their rear-view mirror, Bryan Honda is already turning their attention to 2016 and topping 2015 achievements. A golden opportunity to grow revenues is the strong consumer sentiment for change in the car buying process. With the help of VeriShow technology Bryan Honda is offering Express Buying online.
Efficiency is the New Currency for Dealers in 2016
The momentum from 2015 record vehicle sales is helping dealers to look at new ways to grow revenues. And while timing isn't everything, the history of the internet shows, it pays big to get in early on growing trends. One trend dealers are focused on is improving the time visitors spend in the showroom doing paperwork. When you become more efficient you can sell more cars faster. Efficiency is the new currency for dealers in 2016.
Pushing the Limits of Dealer Capabilities
The volume of vehicle sold in 2015 is forcing dealers to find solutions to help them become more efficient. To sell more vehicles in 2016 without growing staff, doubling inventory or spending more on marketing requires an efficient process. Online transactions offer big potential to scale without significant capital expenditures. And for Bryan Honda the program is off to a massive start.
Pushing the Limits of Browser Capabilities
The technological advancements of what dealers can now accomplish online has changed with VeriShow's patented platform. In anticipation of vehicle buyers requirements secure online document sharing, called e-contracting, helps expedite the buying process. By completing documents on the dealers website, buyers gain access to an exclusive service. Offering a website visitor ability to do e-contracting through the browser is doing something extraordinary with the ordinary.
"We are a leader in communication and collaboration," said Yuval Moed, CEO of VeriShow. "Websites are the leading digital platform for automotive dealers. It wouldn't make sense if we didn't make sure that the two systems interacted with one another."
Something Big is Happening
The size of the opportunity of real-time collaboration is not a secret to the technology giants. It's a billion dollar secret that the automotive community can take advantage of today. The world's largest tech firms are hiring developers and engineers to build platforms on webRTC, or real-time communications. Below are a few companies building for the future.
Apple hiring for latest media engineers:
Amazon hiring for next generation platform engineers

Cisco hiring for unprecedented disruption developer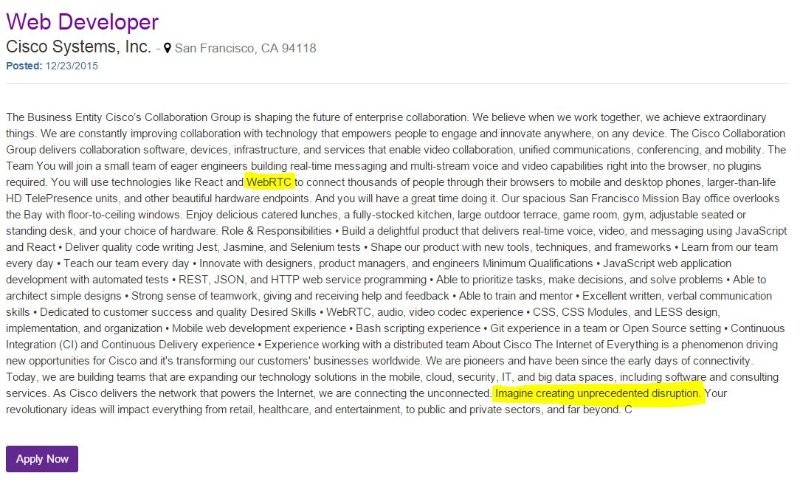 VeriShow's off-the-shelf technology is ready to deploy for dealers today