VeriShow 4.4 | Release Notes
VeriShow 4.4 introduces the first of several localization options, ability to limit the number of concurrent sessions per agent and bug fixes.
VeriShow Platform in other languages
The VeriShow platform is now available in Hebrew. Currently, the actual session area (e.g. chat, audio, and video, content sharing) is localized to Hebrew for the customer and agent. We are in the process of providing additional localization options to support more languages, stay tuned!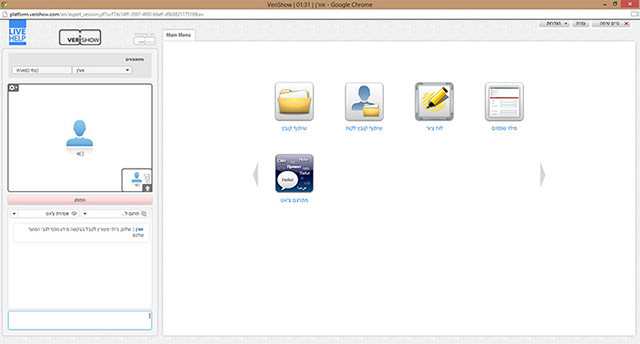 Screenshot of the agent's main menu in Hebrew
If you are interested in trying VeriShow in Hebrew or in other languages (when available), please contact us.
New concurrency setting
It is now possible to limit the number of concurrent sessions that agents can handle. This particularly useful in heavy-traffic websites where the button can be disabled according to agent availability. This feature can currently be set by the VeriShow team.
Other improvements & known issues
We've continued improving our web co-browser solution's technical capabilities. Several bug fixes have been implemented, such as ones related to Monitoring of calls in LivePerson. There are a couple of known issues related to right-to-left text presentation in Hebrew and accuracy of status updates in the Website Visitors page. These will be addressed and released in an upcoming update.
Questions? Demo?
If you have any questions, please do not hesitate to contact us. If you would like to see any of the above in action, please contact us for a demo.