Allow customers to view your screen in real-time using the Screen Sharing utility – e.g. show them your desktop or any application running. They will see what you see on your screen.
Screen Sharing Overview
The Share My Screen application is designed to be used by agents to show or demonstrate content that is on their screen to their customers, such as a page on the company website. The app is applicable to a variety of segments including finance, healthcare, and e-commerce and can be used effectively in support and sales scenarios.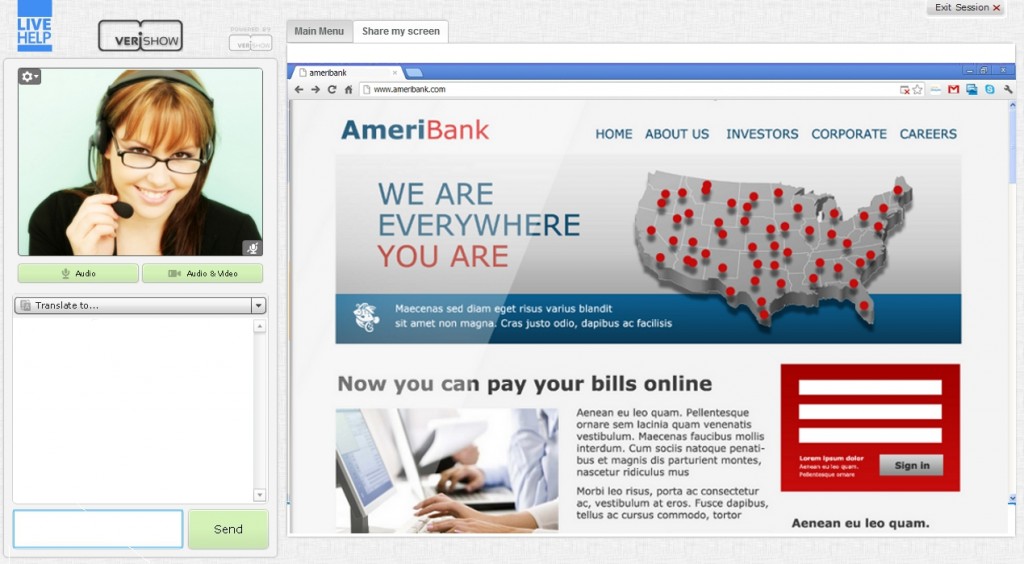 Visitor is seeing the agent's screen in real-time
Scenario Examples
The Share My Screen application has various potential uses.
E-Commerce – In a sales scenario example, where a customer has shown an interest in a product and would like to discuss various models in detail, the agent can go through the different options with the customer. The agent can share his or her screen to show the various products that are on the company's website. The customer discusses them together with the agent and when their interaction is completed he or she can make a better and more informed decision about the purchase.
Financial organization – In a support scenario, the agent may want to explain some financial details using a platform that the company uses. The agent can then share his or her screen, go through the financial details that are displayed on his screen, without the need to upload or send any documents. This is likely to result in a more effective interaction and higher customer satisfaction.
How is it used?
The text chat commences as usual. When the agent establishes that it would be beneficial to show his or her screen, he or she would explain to the customer that they are about to do that. The agent would then run the application and click the Share Content Area button. The customer's window will resize and he or she will be able to see the agent's screen in real-time.
Prior to launching the application, the agent needs to ensure that the content he or she would like to show on his screen is ready and that no irrelevant content or information is displayed.
Other
The application can be used with or without VeriShow's Audio / Video capability, however, it is recommended to use it or a phone, in order to continue to effectively communicate while sharing the screen.
Learn more or just try it!
See a full list of features and examples of what VeriShow can be used for, or just sign-up for free!