VeriShow offers the ultimate video chat, co-browsing and content sharing SaaS engagement solution for the fast growing online retail industry.
As the global retail activities increasingly move online, VeriShow's interactive SaaS platform for personal engagement is becoming a vital tool to help retailers better compete.  The digital customer wants the ability to engage, in person, with the retailer anytime and from anywhere.
The ability to embed the VeriShow platform into a retailer's website as if it is part of the site makes VeriShow a highly desirable tool for retailers.  When retailers implement VeriShow, they enter into the new era of e-commerce known as the "interactive digital era". This is where customers engage with the retailer's customer-service team in person without physically meeting them giving the term 'real-time' a new meaning.
Customer purchases a gift online while receiving high-touch customer service using VeriShow
The Benefit for Online Retailers
The primary benefit of this 24/7 customer-engagement platform is that any digital storefront, whether large, medium, or small in terms of sales revenue, can make their customers feel as if they have physically walked into the same shop or store—and do so without travelling.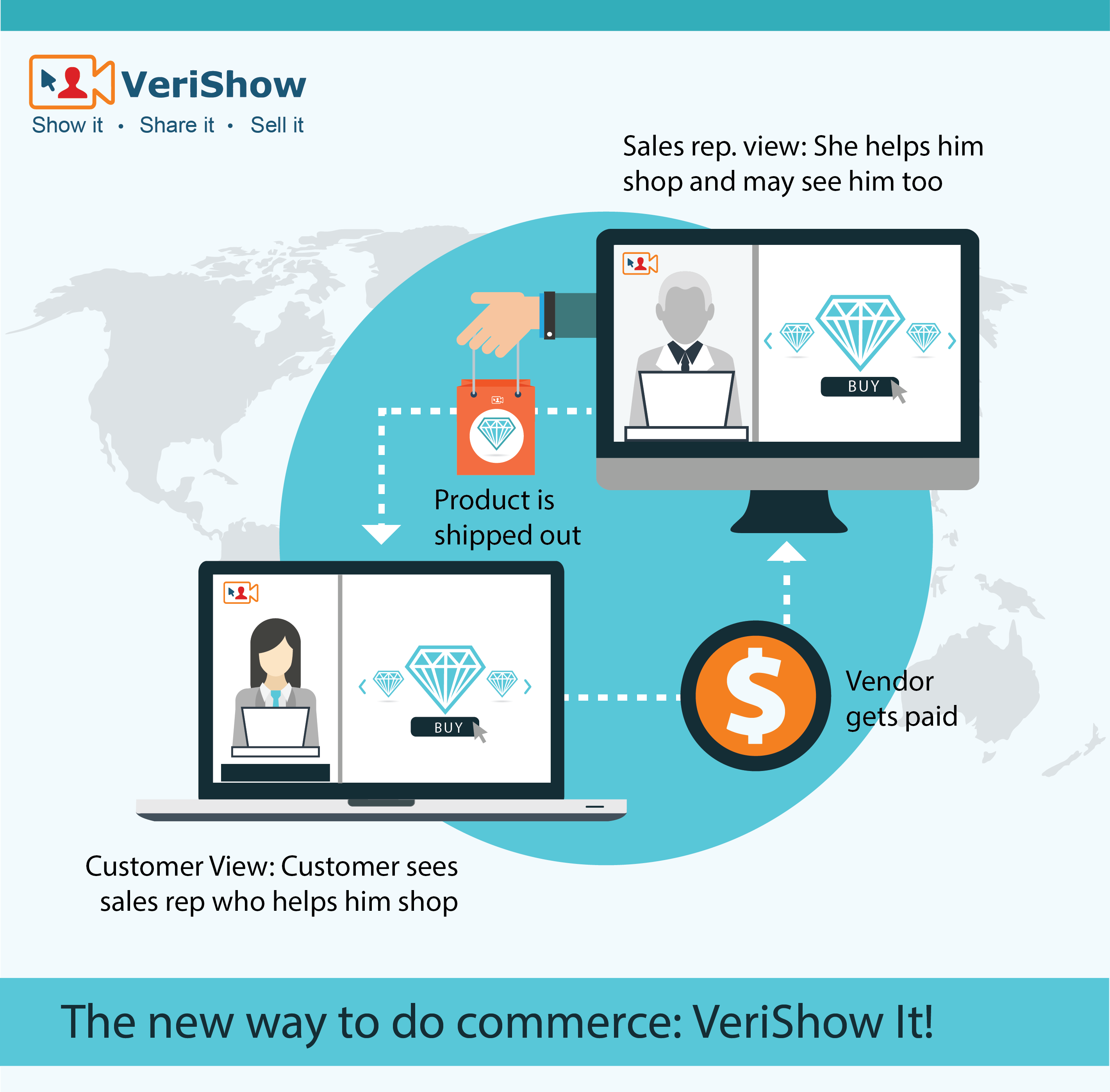 Click here to view full infographic
Main Features
The platform provides capabilities such as:
Textual Chat
One or two way audio / video chat
Web to phone (ability to call your phone from your web site)
Real-time website cobrowse with the customer
Window or Desktop Screen Sharing
Agent to client document sharing
Client to agent document sharing
Form completion in real-time
Interactive whiteboard, and more
Furthermore, the solution includes a set of management tools including rich dashboard to monitor agents activities, session history and analytics data as well as video chats recording.
VeriShow is your Competitive Advantage
Retailers that use VeriShow touch their clients and differentiate themselves from the rest of the market letting their representatives recommend products and services in person and in real time as well as provide live demonstrations directly from within their web site.  Retailers that use such live engagement can increase their conversion rate by more than 50%.
As VeriShow integrates with mobile devices and mobile web sites, businesses can engage with consumers that come to their sites from the fast growing segment of digital devices – mobile.
Request a Demo
If you have any questions you are welcome to contact us, or if you would like to see VeriShow in action, request a demo.