This release includes additional advanced embedding features, chat options, Google Analytics integration and enhanced details for leads.
New Call Button Embedding Options
We now support two new methods for embedding buttons to enable a customer to directly engage as follows:
Direct to Web to phone / bridge – allows to add a button with special embedding that leads the customer to directly calling the operator rather than text/video chatting with the agent. This allows to separate the phone channel from other channels and place the button as relevant in applicable sections/pages of the site.
Direct translated chat button – enables to add a button which leads to a chat with automatic translation. For example, the live chat button would say in Spanish 'Live Chat'. The customer who clicks that button will be able to chat in Spanish and all messages sent from/to him/her will be automatically translated. The agent will be reading the Spanish messages in English (automatically translated), or in a language of his/her choice). This allows to add a chat channel to audience of a certain language, enabling them to easily communicate with an agent, each using their own language.
The information on how to embed these buttons can be found in the VeriShow account backend in Live Help Button > HTML > Advanced Embedding (see translate_to and web2phone_direct parameters). For assistance, please contact your VeriShow account manager or contact support@verishow.com
Added Chat Features
We now added previously supported features, to the HTML5 version of VeriShow (6). Through the newly added 'Options' menu link above input field, the customer and the agent can:
Save Chat – Save chat transcript locally as a file for future reference.
Print Chat – Print the chat transcript.
Translate Chat – automatically translate the chat so each side can read and write in their language of choice.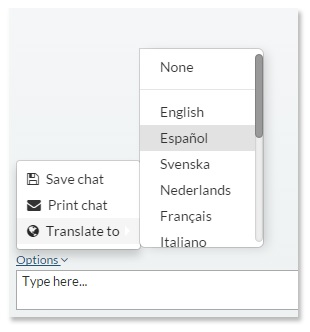 VeriShow's added Options menu
Google Analytics, SalesForce and VinSolutions Integration
We have extended our lead and data reporting and integration capabilities as described below. Note that we now support updating customer details during a session. This means that when a customer chats to an agent, even if they did not provide their details before the chat, the agent can collect and enter these details during the session, by clicking the 'View / Edit' visitor information button at the top left of the interface.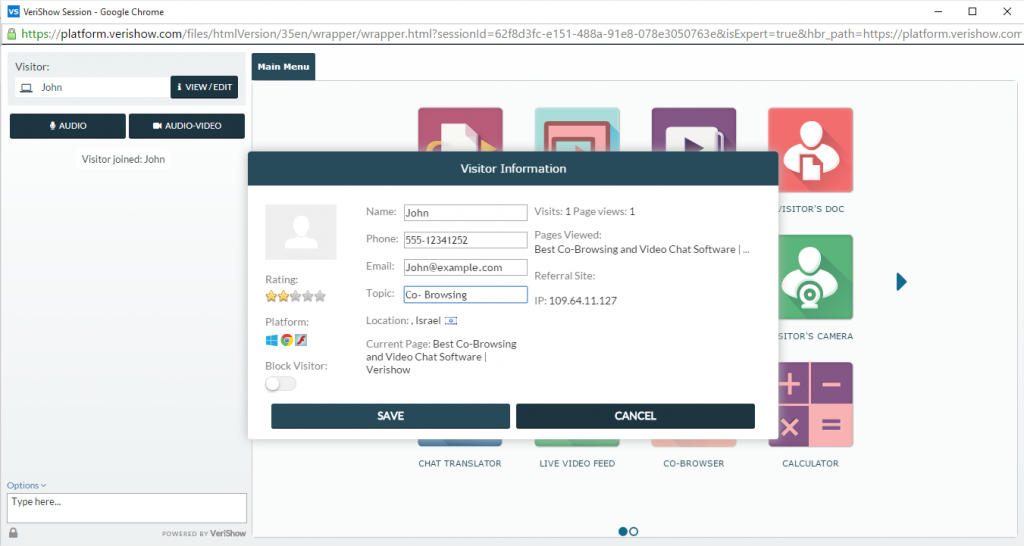 Customer's info window where his/her details can be updated
Google Analytics data reporting
VeriShow can now report to an existing Google Analytics account, the following events, showing the number of occurrences for:
Buttons clicks – the number of times that the live help button was clicked.
Answered calls – the number of calls that were answered by the agent.
Missed calls – number of calls that were not answered by the agent.
To link your VeriShow account to your Google Analytics account, please find what your Google Tracking ID is and send a request to your VeriShow account manager or email support@verishow.com.
Lead Reporting to SalesForce and VinSolutions CRMs
VeriShow can now report lead information of customers chatting, leaving a message or trying to reach agents (agents not answering a call on time – considered "missed calls") to your SalesForce or VinSolutions CRM account! This is great for keeping track and following up on sales opportunities.
Other
Enhanced lead reporting –  when a customer leaves a message, we now report the pages he/she visited before clicking the live help button. This includes the last page from which the message was sent. This can help the agent dealing with the inquiry to learn more about the customer visit and his/her product(s) of interest.
Mobile Bug – there was an issue with closing the chat window after clicking the live help button. The chat would continue to ring at the agent side, which was now addressed.
Questions?
If you have any questions please contact us. If you would like to try VeriShow, you are welcome to sign-up for a free video chat account.