VeriShow 5.1 | Release Notes
We've just released a new VeriShow version, which includes a new Dashboard for usage data, graphs and reports. This version also provides the important WebRTC support for Firefox browsers.
Learning more about customer engagement – New Dashboard
We have now released a new Dashboard to display usage data based on time period selected. The Dashboard is an improved replacement to the old 'Account Activity' tab and 'Engagement Report'. It provides a clear view of data, new arrangement of links, ability to view graphs per selected data of interest, and download reports as CSV files.
The purpose of the dashboard and added analytics data is to enable you to learn more about your customers interaction with the solution and with the agents, discover weaknesses and strength and monitor usage. The analysis of the data will enable you to act on it in order to strengthen customer engagement and improve customer interaction flow.
The new Dashboard page provides access to various types of data and graphs, which include for example:
Information on visitors – general visitor info – unique visitor numbers, and page views.
Interaction data – customer interaction data that includes for example button and invite click figures, number of calls and missed calls.
Engagement funnel – shows the flow of engagement and where visitors drop in the process.
Agent availability report – monitor agents' online availability times (report download).
Additional usage data – app usage, call times and other session-related data.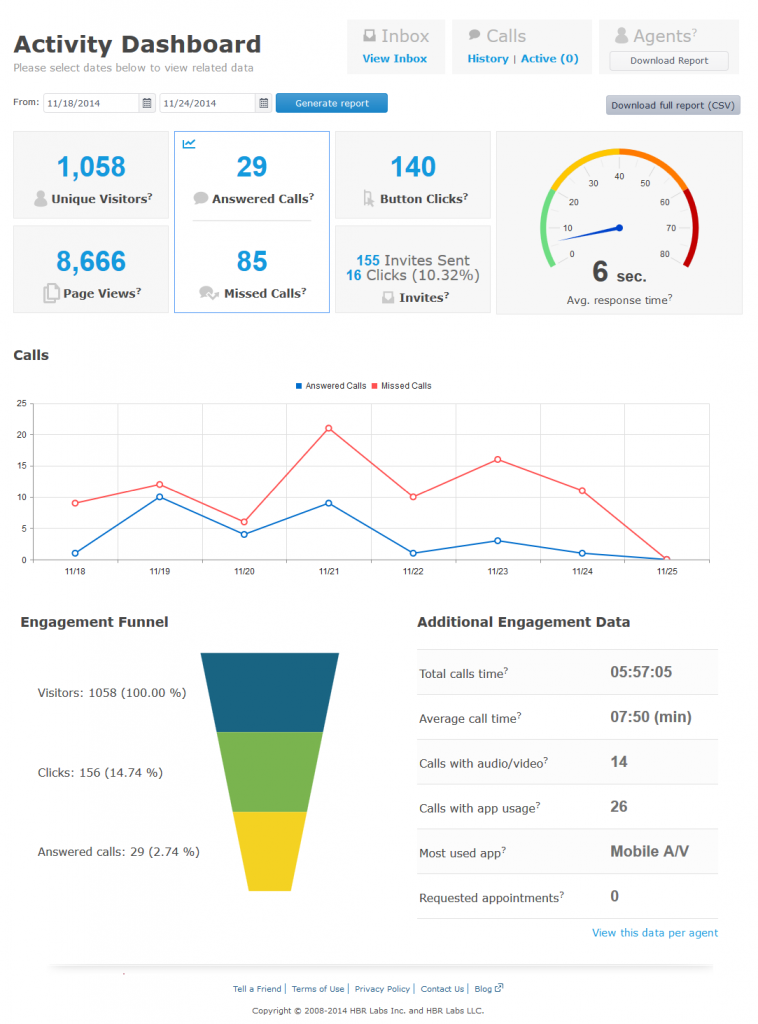 The new analytics Dasboard showing data and graphs for customer and agent engagement  
Other improvements
Chat slowness issue – we have addressed a chat slowness issue that was reported by some users.
Firefox WebRTC Support – the long awaited support for WebRTC has now been added to all accounts. All interactions using Chrome/Firefox (33+) will have high quality WebRTC audio/video chat enabled.
Further info
If you have any questions or would like to learn more about the new Dashboard, please contact us.