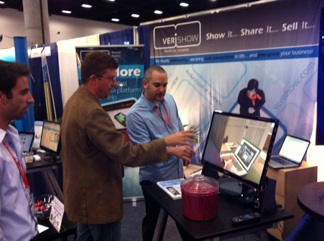 It's amazing what a difference a year makes. The excitement at this year's Internet Retailer Conference and Expo was evident in the size of the crowd, the mood in the sessions and the conversation on the floor. Bigger and better than last year's event, IRCE 2011 offered us the opportunity to talk with hundreds of Internet retailers about where they're going and what they need to get there.
The value of live engagement resonated with these IRCE attendees, and they responded enthusiastically to the demos we shared from our booth and the news of our integration with LivePerson.
Throughout our discussions with people in San Diego, we heard a clear understanding of VeriShow's value proposition: by upgrading a simple chat platform to a real-time multimedia collaboration, e-tailers can transform personal service into sales.
Together with LivePerson we're pioneering this effort, and we're looking forward to seeing what our joint customers achieve with our integrated offering.