VeriShow 4.5 | Release Notes
VeriShow 4.5 includes the official release of our patent-pending co-browser which is now out of beta. This release also introduces support for Portuguese and Danish languages and an improvement to the visitor monitoring.
Full-featured, Powerful Web Co-browsing Solution
VeriShow's patent-pending co-browsing solution is now officially released. The co-browser allows an agent to walk through the company's website together with the customer. They can navigate pages pages together, complete forms add items to cart and go through the checkout process together. This can be very effective in support scenarios and particularly in sales to assist with converting a customer.
Main co-browsing features:
Support for co-browsing secure and non-secure pages – website pages that are encrypted (HTTPS) as well as standard HTTP pages can be viewed simultaneously.
Works on pages that are behind login – enabling the agent to continue co-browse the pages even after the customer logged into the site.
Compatible with cookies – all cookie-based info is maintained and visible on both sides when co-browsing (e.g. adding items to shopping carts, changing language preference).
Provides masking of sensitive fields – in scenarios such as payment pages, it is possible to mask inputted customer info such as credit card details.
Cursor and scrolling synchronization – The website representative and customer mouse cursors are visible and scrolling of pages is synchronized.
For a demo of the co-browsing solution, please contact us. This powerful solution is not part of a standard VeriShow account and has to be requested.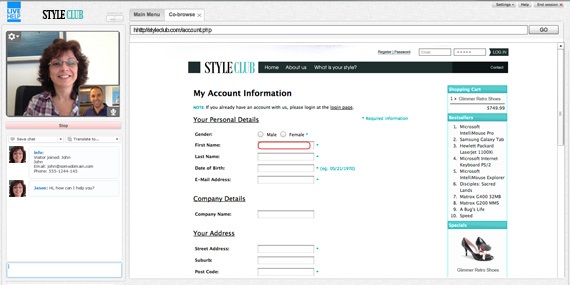 Visitor is talking to an agent and co-browsing and completing a form with and agent
Portuguese and Danish Localization
We've started with a localization process of VeriShow, where Hebrew was the first language supported in the session area (where the customer and visitor engage). We've now added similar support to Portuguese and Danish, following client demand. If you are interested VeriShow in any of these languages, please contact us. Note that Danish has been implemented in certain areas and will be completed in the session area within the next couple of weeks.
Website Visitors – Improved Monitoring
The Website Visitors's monitoring page allows the agent to see who is currently on their site, pro-actively invite visitors to chat and answer incoming calls. The visitors' current page and history of visited pages are now improved:
Current page and recent pages – These were previously shown as URLs, they are now presented as the page title(s) by default, to enable the agent to more easily understand the customer's current page and path.
Recent pages – The agent can now see a full list of visited pages by the customer, as opposed to previous limitation that allow the agent to view only last three pages.
Questions? Demo?
If you have any questions or would like to see any of the above in action, please contact us for a demo.